Encounter
Air date
3.4.2012 (BS Premium)


7.4.2012 (General)

Written by
 ?
Directed by
Kōnosuke Uda
Episode guide
Previous
None
Next
Episode 2
Encounter
(出会い,
Deai
) is the first episode in Ginga e Kickoff anime.
Summary
The episode starts when
Momoyama Kinzou
tells
Oota Shou
that his team, the Momoyama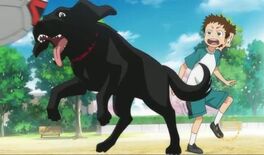 Predators, has been disbanded, because of a lack of members. Shou doesn't get upset about it and starts to look for new members. Later he meets
Takatou Erika
and asks that if he can practice with her. After Shou had played against her dog
Zach
, Erika agreed to do so.
After their practice, Shou remembered that he needed players for his team and asked Erika to join. At first Erika said no, but when he saw how Aoto was practicing and heard that Shou's team had won against his team, she agreed to come to watch the Predators practice.
The day after, when Shou introtuced Erika to Kinzou, Kinzou told Erika that the Predators had been disabanded and girls can't play soccer. Angry from that, Erika asked Shou to practice with her again today. When they were going to practice they
notice that a woman was training in the same park. Erika recognized that she is
Shimizu Misaki
, a famous soccer player. Shou asked Misaki to have a mini-game with them, which she agreed to.
They soon saw how much of an incredible soccer player she really is after she completely dominates the two of them. Just before the end, Shou finally managed to score thanks to his hard concentration.
After their match, Shou asked Misaki to be their new coach, but she declined because she is still an active player. She encouraged them to find their own coach and that they will find the right one.
Debuts
Characters
Teams
Community content is available under
CC-BY-SA
unless otherwise noted.