Counterattack!
Air date
12/06/2012 (BS Premium)

16/06/2012 (General)

Episode guide
Previous
Episode 10
Next
Episode 12
Counterattack
(反撃!,
Hangeki!
)is the 11th episode in Ginga e Kickoff series.
Plot
Momoyama Predators match against Tsubakimori SC is still going on and the score is 2-0 to Tsubakimori. When the second half starts Momoyama gets to control the game with their tactics 'Build' and Kota scores a goal. After that Momoyama manages to seal off Tsubakimori's tactics Suguro Special and Kota ties the game 2-2. Tsubakimori's plays start to fall apart and Furuya's Big Tri lets Kota to get hat trick. Later Uematsu also scored. Fifth goal to Momoyama scored by Ryuuji, he kicks the ball to Suguro's feet and that way to the goal. An own goal that made the referee and Rin supicious is it planned.
Feeling that they will win soon, Ouzou decided to have fun and planning something with the help of Ryuuji. The match ends 6-2 for Momoyama thanks to Ryuuji that ask Erika to do a long shoot after he and Ouzou successfully break 'Dango Soccer' style from Tsubakimori SC. When know that Sugoro crying because his lose, Kota tell him that it's fun to play soccer with him.
After the match referee tells to
Hanashima his
own opinion about Momoyama's plays, esp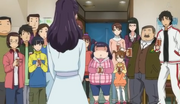 ecially about Ryuuji's goal and Ouzou's way to free the dango soccer. Hanashima disagrees about that his team plays weren't 'gentlemanly'. After the referee had said his opinion, he walks away.
To celebrate the victory Momoyama Kinzou invites the whole team and Furuya Rin to Shou's parents restraunt. At there Rin shows to Hanashima video about Momoyamas plays, mostly about Suguro's own goal. That makes Hanashima uncertain about his opinion. Just when the celebrating is about to start, Reika's mother appears...
Community content is available under
CC-BY-SA
unless otherwise noted.