First Goal
Air date
4.9.2012(BS premium)
8.9.2012 (General)
Episode guide
Previous
Episode 17
Next
Episode 19
First Goal
is the 18th episode in Ginga e Kickoff series.
Plot
Momoyama Predators had advanced to the city tournament, and when they were watching Yabusawa Eleven's (their next opponent) match, Akira Kaguera came to talk to the Furuyas. He said that he wants to win against them with everything he's got. After handshaking he said that he he will be waiting in the finals.
Yabusawa won their match, which made 
Hanashima
to change Momoyama's formation. He changed
Ryuuji's
and
Kota's
places, so Ryuuji could break the Yabusawa's game rhythm with his "own
goals". When the match starts, Yabusawa quickly turns to offense but with Momoyama's tactics challenge and cover they managed to protect the goal. With their tactics Yoi,
Ryuuji
manages to score the first goal, altougth it's an own goal. Later Ryuuji scores another "own goal", and because of that Yabusawa's coach decides to man mark Furuyas more tighly. But because of that, almost all Yabusawa's defenders are else where when 3U scores with their tacics Reverse Three. After half time
Kota
scores two goals and
Erika
scores one. In extra time the Predaotrs get a corner kick and
Ouzou
and Ryuuji decide to give
Shou
a possibility to score his first goal. And that Shou succeed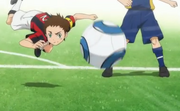 to do. When the match ended, the score was 7-0 for the Predato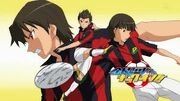 rs.
After the match Kyouko and Furuya Rin came from watching the Heaven's match against Kiyose Kickers. They told that Heaven had won 6-2 and Aoto had scored all the goals by himself.
Community content is available under
CC-BY-SA
unless otherwise noted.