No Guard
Air date
18/09/2012
Written by
 ?
Directed by
 ?
Episode guide
Previous
Episode 19
Next
Episode 21
No Guard
is the 20th episode of Ginga e Kickoff!! series.
Plot
The Momoyama Predators are still shocked about Aoto's wonderful early goal and they start to lose their confidence. But after the coach gives them support that the match just started, they go back to their original state. Despite that Aoto still scores the next goal. Kota gets annoyed and dribbles past the whole opposition practically by himself and scores the first goal for Momoyama.
After the water break, Kota decides to man mark Aoto because they are both forwards so he can somehow predict Aoto's movements. Its surprising (especially for Ryuuji and Ouzou) that Kota actually lets other members to do the scoring.
The match continues and becomes more tense because Aoto and Kota face off. However its ends up with Ouzou discovering Aoto's habit when he's about to pass an opponent. Momoyama Predators successfully catch up and tie 3-3 with Heavens.
But when the fi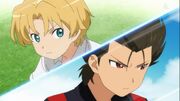 rst half about to end, the score is 4-3 for Heavens caused by Shou's own goal. In the break, Ouzou tells all members about his discovery. All members start to lose confidence again, but Kota's words make them fired up again to win the match. Surprised by the spirit, Hanashima decide to answer the spirit by giving a new formation for the second half. With new confidence, Momoyama Predators ready to face the second half and win the match.
Community content is available under
CC-BY-SA
unless otherwise noted.