Episode 21
Air date
25/09/2012 (Bs Premium)
29/09/2012 (General)
Episode guide
Previous
Episode 20
Next
Episode 22
Teamplay
(チームプレー) is the 21st episode of Ginga e Kickoff!! series.
Plot
The match against Heaven's is still going on and Momoyama is losing 3-4. Due to Momoyama's formation change they quickly take advantage with Furuya's tactics 'Big Tri'.
After the ball went out of play 
Ryuuji
asked
Aoto
about why did the Heavens change their goalkeeper since the last one was better than the current one. Aoto begins to think how
Tagi
 quit soccer since his body won't keep up anymore. That causes Aoto's play to fall apart for a while and with the Furuyas three man mark on Aoto, Momoya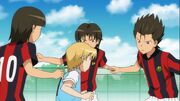 ma finally ties the game. After that the Heavens decide to change their tactics from Aoto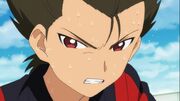 focused to where everybody takes part in attacking. It works at first but with
Erika's
brilliant defense Momoyama gets a scoring change.
Kota
tries to do a header but fails and when he's landing Heaven's defender falls to his leg, causing an injury. Momoyama's play's starts to fall apart when Kota goes to the bench and Heavens scores the leading point quickly. Kota decides to go play even with his injury, he got past Aoto and scores, but with a lot of pain.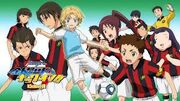 Community content is available under
CC-BY-SA
unless otherwise noted.