Tears
Air date
02/10/2012 (Bs Premium)

29/9/2012 (General)

Episode guide
Previous
Episode 21
Next
Episode 23
Tears (涙) is the 22nd episode in Ginga e Kickoff series.
Plot
When Kota had tied the game against Heaven, The Predators started a desperate last attack. With even the defenders moving forward, Kota soon got a chance to score, but when Aoto fiercely tackled him, the ball rolled in front of Reika. She made a loop shot and scored the winning goal. The Predators won the match 6-5 and moved to the finals.
After the match everyone was celebrating the win but soon Kota collapsed while holding his leg. It was started to hurt again after Aoto's block and Kota was exported to the nearest medic. Medic said that Kota's leg migth have been fractured and he should be taken to the hospital. Kota highly protested against that and after some thinking Masaru agreed that he could continue the playing in the finals.
After it had been started to rain, Predators moved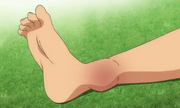 inside their bus. When Kota returned everybody builded up nice team spirit. It ended when Masaru changed his mind and said that he wouldn't let Kota play in the finals. When Kota protested, Masaru revelead how he got his injury in to the same palce as Kota. When he tried to hide it, he ended up injuring his hip and that ended up his player career. Kota was still refusing to go to hospital, but then his
fathersaid
that he wouldn't allow him to play, Kota finally gived up.
The finals were against New Tokyo FC Amarillo and Predators were playing with only ten members, since Kota's injury. Predators tactics were to score the first point and then fall back to defence. Scoring the first goal succeeded quickly, but Kageura Akira said it was only because they wanted an handicap sice Predators had only ten players on the field. Amarillo was soon proved superior, when scoring goal almost every time they got the ball. The match ended 6-1 for Amarillo.
After the match Kageura said to Ouzou and Ryuuji that he was disapointed when they weren't much of challenge. He also said that they propably play against eachother again.
After the closing ceremony, 3U said that they
couldn't play in the Predators anymore. It caused that nearly everyone started crying.
Day after the closing ceremany Shou and Erika were planning to go to see Kota with Reika, but at the Reika's family villa they found out, that Reika had catch cold and couldn't come. When they meeted the triplets at their home, they found out that Kota's leg wasn't fractured. Suddenly Kyouko comed telling that Masaru was heading for the owner's offce with an resignation letter in his hand.
Community content is available under
CC-BY-SA
unless otherwise noted.