Episode 23
Air date
09/10/2012 (BS Premium)

13/10/2012 (General)

Episode guide
Previous
Episode 22
Next
Episode 24
Team Disbanded (チーム解散) is the 23rd episode of Ginga e Kickoff!! series.
Plot
At the beginning of the episode
Hanashima
was going to quit his job as
Momoyama Predators
coach. He went to
Kinzou Momoyama
's office to resign his contract but most members of the
 Momoyama Predators
arrived there and tried to assure him not to quit. Masaru first invoked that he wanted to take responsibility of the events in the city tournament. When
Kota
said that it was his choice to cointinue playing with his injury not coach's, Masaru claimed that his problem is money and managed to escape. Soon after that Kinzou gets call from The Japan Football Assocalition and he heard that Momoyama Predators had been chochen for the Future Cup which will be held in Spain.
Amarillo
was also chosen for this cup, what is directed only to the 8 player teams. Assocalition's only term was that Hanashima would be Momoyama's coach. Everbody went to Hanashima's house but he refused. Next day
Shou
decides to ask Hanashima so many times that he would agree. He,
Erika
,
Ouzou
, and
Ryuuji
keep following Hanashima that trying hard to get a job (and always failed).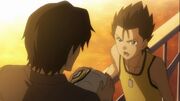 In the end, because of Nagabuchi's and Kota's words, Hanashima decided to come back. All people that gathering in Hanashima's apartement were so happy when hearing this. But, the happy atmosphere suddenly disappeared as Kinzou said that they are lacking of members again.
Community content is available under
CC-BY-SA
unless otherwise noted.