End of the Fierce Battle
Air date
18/12/2012 (BS Premium)

22/12/2012 (General)

Episode guide
Previous
Episode 31
Next
Episode 33
End of the Fierce Battle is the 32th episode in Ginga e Kickoff anime.
Plot
The Predators match against Amarillo moved to the second half with Amarillo leading 2-0. Amarillo's tactics were to protect their lead with only defending. It worked and with Kageura knowing what orders Shou would give, Amarillo was dominating the early minutes of the game.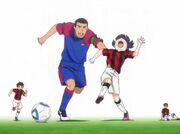 The Predators tried to attack using their new tactics "whirlpool", but as Ouzou stated it didn't work since they used too much time thinking. It was Ouzou again who inveneted that Kageura was the key to defeat Amarillo. Ouzou asked his team-mates to keep passing him the ball, so he would beat Kageura, altough he was already quite exhausted.
With that as their tactics Predators contim´nued attacking trough Ouzou and thanks to Reika's exelent positioning, they even succeeded to make couple of scoring changes. With constantly under pressure from Ouzu, Kageura started to get stressed about how Reika was appearing out of nowhere. Just after similiar attack, Reika broke through Amarillo's defence line. Kageura had to faul her in the penalty area so she wouldn't score. Aoto scored Predators' first goal with his penalty kick.
With their pace, Ouzou continued challenging Kageura and it started to turn even more effective all the time. Predators still d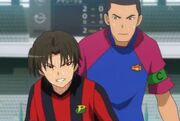 idn't get too many scoring changes due to Amarillo's tight defence.
Ouzou finally managed to break through Kageura when sweat got in his eyes, and he had to close them for a while. When that happened he remembered he used his eagle vision and dribbled past Kageura. Aftrer a couple of unsuccesful tries Reika scored from the rebound.
Community content is available under
CC-BY-SA
unless otherwise noted.