The Path to Victory
Air date
08/01/2013 (BS Premium)

12/01/2013 (General)

Episode guide
Previous
Episode 32
Next
Episode 34
The Path to Victory
is the 33rd episode in Ginga e Kickoff anime.
Plot
After Reika had tied the score between Predators and Amarillo,the game went for a 10 minute extra time. Amarillo's coach decided that their tactics for the extra time were to defend with all the players and aim for a draw. If the game ends as a draw, it will be recorded as a win for both of the team. When Amarillo's players had went to the field, Kageura asked his team mates: "Do you feel fine with that kind of victory?" They weren't and decided to aim for a real victory.
Amarillo still defended the early moments of extra time and Predators didn't get many scoring changes. Amarillo's players man-marked Predators so tightly, that they couldn't use Spiral. Also, Kageu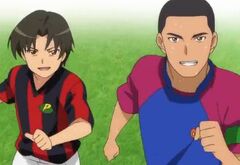 ra was marking Ouzou and blocking Predators shots single handedly. The stalemate finally ended when
Erika
tripped when dribbling and Amarillo taked 3-2 lead from counter-attack. In the second half of extra time, Predators soon turned offensive and gained many scoring changes. When playing they all thought their motivations why they were playing and how fun it is: Reika how she was able to play soccer with everyone, Aoto wanted go to Spain,
Tagi
was happy to still play football with Aoto and Erika wanted to make up her mistake. Predators tied the game with
Kota
's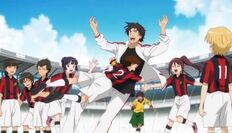 fierce shoot.
After the equalizer, also Amarillo realized how fun playing soccer is and the last minutes of the game everyone were smiling. Just before the ending of the game Shou scored the winning goal for Predators from Aoto's rebound.
Community content is available under
CC-BY-SA
unless otherwise noted.