To Barcelona
Air date
29/01/2013 (BS Premium)

02/02/2013 (General)

Episode guide
Previous
Episode 33
Next
Episode 35
To Barcelona
is the 34th episode of the GInga e Kickoff anime.
Plot
Because the Momoyama Predators had won the Future Cup, Shou had been asked to take his medal to the school so he could show it to the whole school. During the morning opening, the principal invited Shou, Erika and Reika into the front of the whole school. At first Shou was terribly nervous but when he needed to give a speech he managed to get rid of it. In his speech he thanked his teammates, classmates and all those who had given them support during their journey.
In the evening, Tagi found Aoto practising in the park, altough he should had given a presentation about the same thing as Shou. When Tagi asked a reason for that, Aoto just said that he forgot about it and he is bad at that kind of stuff. Tagi still got Aoto convinced about that he should be more outgoing so his missing father would come to meet him.
Next day Predators went to Chiba Tunderbolts homegrounds, as
Nagabuchi
had promised. Predators got Chiba's coach convinced to have a mini-game with Chiba's adult team, ehrn Erika and Reika asked him.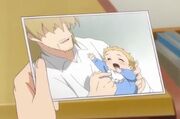 The game had some rules such as Chiba's players could charge directly at Predators players because they didn't want anybody to get injured.
Just before the beginning of the match, Kyouko introtuced them a man, who was going to document Predators plays in Galaxia Cup. At first Hanashima was against it but Nagabuchi got him persuaded.
In the game, Thunderbolts domintated because of their differences in height and experience. Predators got their first scoring change when they used Change. They still didn't score and Thunderbolts maked the 5-0 goal from counter-attack. After that Ryuuji suggested that they would use Change continously. With that as their tactics, Predators managed to score the 5-1 goal. Soon after that the game ended.
In the day before the flight to Barcelona, all the players of Predators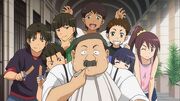 gathered into the same park where Shou had met Erika. They talked about how it all had started.
In Barcelona, Tagi asked Erika and Reika to help him to find Aoto's missing father.
Community content is available under
CC-BY-SA
unless otherwise noted.