Oota Shou


Vital statistics
JP Name
太田 翔
Gender
Male
Position
Defender
Number
2
Seiyuu
Kobayashi Yuu
Family
{{{Family}}}
Debut
Episode 1
Oota Shou is the main character of the manga and anime series, Ginga e Kickoff!!! He is a defender and the captain of the Momoyama Predators
Background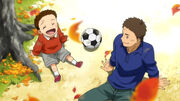 When Shou was younger, he was a very shy and timid kid, but became interested in soccer when he saw
Tanaka Satoru's
plays. He tried to join the local soccer team, but became despressed after witnessing how well the Furuyas were controlling the ball. Afterwards, Shou refused to touch the ball again, which made his 
father
worry. Finally, Shou's father took him to the football stadium where Tanaka was commentating on a match. Tanaka encouraged Shou to keep playing football. It is likely that this event helped Shou become the person he his now.
Appearance
He has short, brown hair and bright, green eyes.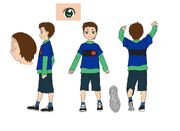 He is quite short, but a bit taller than
Aoto
. At first, he was quite skinny, but he got more muscular trought the series.
Personality
Oota Shou is a strong willed player that has a loud voice and can be clumsy at times. He is hardworking and motivates his team-mates when their morale is low. After making consecutive mistakes, Shou become disheartened and his team suffers due to his lack of optimism. As seen in Episode 15, Kota slaps Shou in the face to take him out of his depressed state.
He loves soccer more than anyone, but lacks the skill necessary to be any good, Until Misaki found out about his amazing perception and field vision. But, thanks to blind soccer, his ball control has now improved.
Plot
Introduction
Shou was part of the soccer team Momoyama Predators, but the team was disbanded after the triplets quit. Afterwards, the players and the coach quit, leaving Shou on the team alone. Momoyama Kinzou  was the manager of the team and told Shou that he would use the 5th grade team to compete in the district tounrament since the 6th grade team only had one player. Shou would not take this for an answer and soon met Takatou Erika. Shou tried to recruit her, but she didn't want to join a weak team. She still agreed to practice with Shou. Next day, at the same park, Shou and Erika noticed that a pro soccer player, Shimizu Misaki, was practising there. After a little talk, Misaki agreed to have a mini-game with them. When the game started, Shimizu was easily dominating and Shou and Erika couldn't lift a finger against her. Just before they were ending their practise, Shou asked to challenge her one more time and managed to steal the ball. Afterwards, when Misaki asked how he did that, Shou told that he had noticed Misaki's habbit when she was going to do a feint.
Community content is available under
CC-BY-SA
unless otherwise noted.