Saionji Reika

'
Vital statistics
JP Name
西園寺玲華
Gender
Female
Position
Defender

Libero

Number
3
Seiyuu
Tazawa Riiko
Family
{{{Family}}}
Debut
Episode 2
Saionji Reika
is a sixth-grader and classmate of
Erika
and
Shou
. She is a defender and midfielder for the
Momoyama Predators
.
Appereance
Saionji Reika is an overweight girl that has dark purple hair, dark red eyes, and a very rounded face. Reika's everyday outfit consists of lots of pink, and she usually wears her trademark pink hoodie, blue capris, and pink tennis shoes with white socks. Her shirt, which is short-sleeved, is light pink with pinkish-purple sleeves that also match the sleeves of her hoodie and the array of lines on the front of her light pink hoodie. During and outside of soccer practice, she wear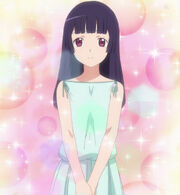 s her long hair in a style that takes some of her hair from the side and ties it up with a pink band. Sometimes, she leaves her hair down.
When Reika plays for the Momoyama Predators, she wears the team's uniform, which has black and red vertical stripes (with the Predator sign), and she ties her hair in a bun, with her bangs framing her face.
In episode 26, Reika really does lose weight and becomes skinnier. It shocked all of her friends, except for Kota, who casually greeted her right away.
Personality
Reika is a shy, timid, kind-hearted, and supportive girl. Despite coming from a wealthy family, she is not spoiled and wishes to please those around her. When Erika and Shou needed another member to qualify for the perliminaries, Reika, wanting to help and hearing that she has an affinity for soccer, voulunteered. In the beginning, when she was about to join Momoyama Predators, she said that soccer is fun and that it can also help her lose weight (which really annoyed off Kota).Later, though, she started to enjoy the sport in earnest. She then is shown practicing hard early every morning, during practice, and sometimes during her free time. This shows that she is a diligent worker.
Plot
Saionji Reika appears in the beginning of every episode (she is shown in a prolouge like setting along side her fellow Momoyama Predators), but she is officially introduced in the second episode as a classmate of Shou, shown when Erika transfers to their school. She begins her friendship with Erika by giving her a tour.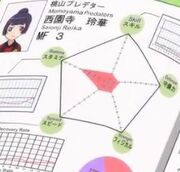 Afterwards when the Predators are finally able to scout a proper coach, the members need another person to join their team to qualify for the perliminaries. Throughout the day while Shou and Erika are trying to find another member, Reika attempts to ask to join, and she finally does, saying that she could go on a diet (this left the Furuya triplets infuriated, especially Kota). Then she becomes a defender for the team.
Trivia
She is the only player in the series to play in all outfield positions.
She also has the best stamina of the Momoyama Predator so she was chosen to be the libero.
Community content is available under
CC-BY-SA
unless otherwise noted.