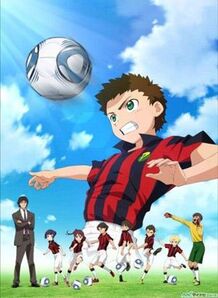 Ginga e Kickoff!!
(銀河へキックオフ!!) (Victory Kickoff in France) is a sports anime about the soccer team
Momoyama Predators
. It started airing on
BS Premium
on April 3, 2012 and on
NHK General TV
on April 7, 2012. It ended on BS Premium on 26.2.2013 and on NHK on 2.3.2013.
Summary
Oota Shou, a sixth grader and a terrible soccer player, hears that his soccer team the 'Momoyama Predators' are going to be disbanded because they lack members. Soon after that, he meets Takatou Erika who is playing soccer with her dog, Zach, in a park. Shou ask Erika to play in his team. Together they start gathering players for an upcoming tournament in order that they would become the best in the Galaxy.They managed to make the Triplet demons;Oozou,Ryuuji,and Kota join the Momoyama Predators again because of the new coach, Hanashima Masaru. After losing at the City tournametto Amarillo, the Momoyama Predators were invited to participate in the 8v8 soccer tournament to choose Japan's representative team for the Future cup| in Barcelona,Spain. Because 3U and the fifth graders couldn't join the tournament, Momoyama Predators once again was lack of members, so Aoto from Kawahara International Heaven joined Momoyama Predators in order to find his lost father in Spain. Aoto's best friend, Tagi also joined the team as their goalkeeper.
Production staff
Characters
Episodes
External links
Community content is available under
CC-BY-SA
unless otherwise noted.